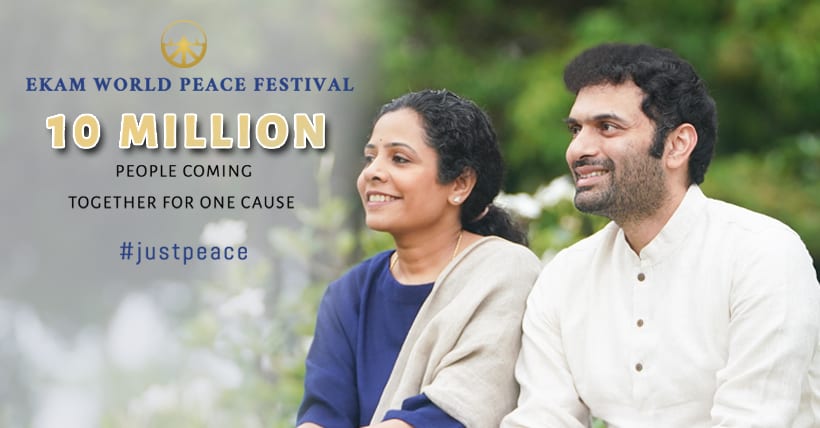 EKAM WORLD PEACE FESTIVAL
Ekam World Peace Festival is a movement in Consciousness.
Over a million people join online in a meditation that is relayed from Ekam for 3 days to bring Peace to Human Consciousness.
Sri Preethaji & Sri Krishnaji, co-creators of Ekam, have also founded O & O Academy, a philosophy & meditation school for human transformation. As modern philosopher sages & mystics, they have led millions on a profound journey into consciousness, helping them find healing, joy, beautiful relationships and purpose they are seeking.
Sri Preethaji and Sri Krishnaji are two of the most impactful transformational leaders and philanthropists of our time. Along with their daughter Lokaa, they have created the World Youth Change Makers, a charitable global initiative as an education force for creating Young Transformed Leaders who will in turn serve and support young people in their schools, colleges and neighbourhoods.
BECOME AN EKAM PEACEMAKER AND BE A FORCE FOR GOOD
You could be an instrument of peace in a world that is torn apart by conflict and misery. A peaceful individual creates a peaceful world.
Ekam offers you a huge opportunity of being a 'Peacemaker' by impacting the lives of people around you and contributing to the transformation of world consciousness.
The peacemakers will be part of "Just Peace"- which are peace practices and peace lessons every day for 20 minutes,
for 28 days offered by Ekam – starting Sep 17th to Sep 19th, 2021.
This is an offering to build individuals
consciousness to meditate for world peace.  Every Peacemaker creates a Peace Energy Point where family,
colleagues &  friends gather together to meditate for world peace.
To join as peacemakers – you simply join the exclusive facebook / telegram group by clicking the link below.
PEACE VOICE
If you are hurting within
what you need is just peace.
If your family members are angry with one another,
then what you need and what they need is just peace.
If your organization is in conflict and the members are divided against each other,
then what it needs is just peace.
If communities are divided against each other and the flames of hate and violence are burning,
then what they need is also just peace.
It is ironic that we go about finding every other solution
for these situations other than individuals moving into a space of just peace.
All that you need, your loved ones need, your family needs,
the world needs is just peace.